I feel so alone. My second flare up of plaque psoriasis at 23 because a coworker came to work with strep throat. Week 2 of this flare up, Major stress, developed a severe ear infection and in constant discomfort and pain. I can't do it anymore.
6
---
Theme
Plaque Psoriasis
Stress and Psoriasis
Psoriasis in the Ears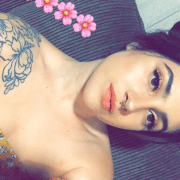 Fresno, CA, United States
23 year old psychology student dealing with Bipolar 2 and Psoriasis. Guess no ones swimming in this gene pool.
---