Can't go out in public anymore. Had a panic attack in the grocery store from people staring at me. A woman nudged her husband while I was standing in line and pointed at me so he would look.
I want to go to sleep and never wake up.
10
---
Theme
Sleep Problems with Psoriasis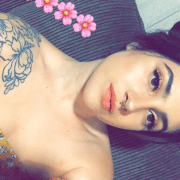 Fresno, CA, United States
23 year old psychology student dealing with Bipolar 2 and Psoriasis. Guess no ones swimming in this gene pool.
---