My face is the worst breakout. All over and around my eyes. Not only ugly, but so painful and raw. My skin feels like it's covered in burns. I am so overwhelmed. Can't bend my legs or arms. Thinking really dark thoughts today.
8
---
Theme
Psoriasis on the Face
Psoriasis around the Eyes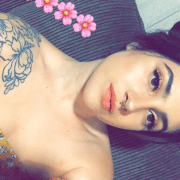 Fresno, CA, United States
23 year old psychology student dealing with Bipolar 2 and Psoriasis. Guess no ones swimming in this gene pool.
---