I can't believe there was a time not long ago where I still felt pretty. I can't help but cry myself to sleep tonight. So itchy and uncomfortable and just sad. I hate the unknown factor of this disease. Will it ever subside? Or not?
3
---
Theme
Sleep Problems with Psoriasis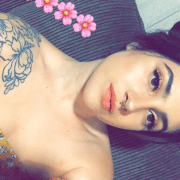 Fresno, CA, United States
23 year old psychology student dealing with Bipolar 2 and Psoriasis. Guess no ones swimming in this gene pool.
---