My mother is such a momma bear. Went to the store with her for more salt soak and she informed a woman who was staring at me rudely "It's not contagious, but I wish it was so you'd get it in your mouth which is gawping at my child." Lol!
5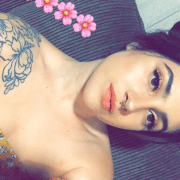 Fresno, CA, United States
23 year old psychology student dealing with Bipolar 2 and Psoriasis. Guess no ones swimming in this gene pool.
---