I'm Phil Davis, I've had psoriasis for, going on, thirty-nine yrs now. I must say it hasn't been a cake walk! I've learned one thing, psoriasis doesn't have you. You have psoriasis. Don't let it control your life. You must control it!
6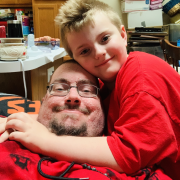 New Bern, NC, United States
Humble follower of Jesus. Proud parent of a 5 yr old boy. Husband to an awesome wife that I don't deserve. I love my life. And I live for my God and family.
---
---
---