My mum used to have psoriasis all over the soles of her feet...mine is on my scalp.
Sometimes I can hide it..but does anyone get a redness around the hairline & i get one spot of it on one eye lid.
With the stress of this..I also get shingles .
3
---
Theme
Psoriasis on the Feet
Stress and Psoriasis
Psoriasis around the Eyes
Scalp Psoriasis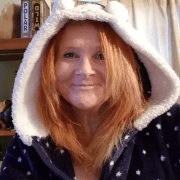 Welwyn Garden City, United Kingdom
I inherited Psoriasis from my mother and grandfather. Theres also excema and asthma! Im a walking snow globe. When it flares up on my scalp..it is all hard and weeps. But ever since using "Alphosyl" shampoo/conditioner it keeps it under control. I
---
---
---