Has anyone gone to the extreme of having their head shaved? I was in so much pain and areas were infected. The infection is clear, but my scalp isn't. I want to grow my hair back, but right now that's not an option.
2
---
Theme
Scalp Psoriasis
Shaving with Psoriasis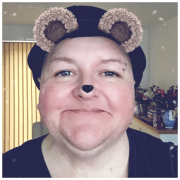 Leicester, UK
Psoriasis since Oct 2017. Learning fast! Also have Trigeminal and Occipital Neuralgia and severe nerve damage in my leg. Mostly bed bound and only leave the house for hospital appointments. My partner and my Son keep me going.
---