My psoriasis does define me. Let me explain: having this disease teaches you things, takes you on a rollercoaster ride of ups and downs, the struggles you deal with; all change, mold and form your personality, thoughts and feelings. Therefore...
5
---
Theme
Confidence and Psoriasis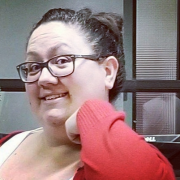 Rancho Cucamonga
I have psoriasis almost 90% of my body and I think I'm beginning to get psoriatic arthritis. I'm 33 years old and was diagnosed around 9 or 10. I need to find people with P to relate to and not feel so alone.
---
---
---