🇨🇦 Happy Canada Day!!🇨🇦
What an amazing weekend, Lots of Sunshine & Swimming,
best news of all We found our family a great house and it is on a lake!!!😂 My skin is happy and will be even happier whrn we move in 2 weeks I Hope you're all well!
16
---
Theme
Swimming and Psoriasis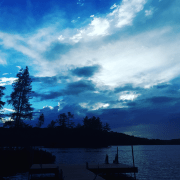 Ontario, Canada
One of my biggest lessons in life and with Psorasis is: ❤when you change the way you look at things...the things you look at change.❤ -Dr Wayne Dyer
---